New Gymnastics Equipment
New Gymnastics Equipment
22 March 2021 (by Jamie Harrison (jamie))
Exciting news!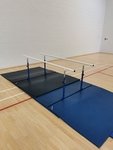 As we prepare to welcome back our gymnastics members and new starters, we would like to show you the new equipment that will be incorporated into future sessions.
YMCA have invested in a set of parallel bars and two new foam floor mats.
The new parallel bars are fully adjustable for ability and age. With this new piece of apparatus, the gymnasts can build strength and confidence, learn new skills and have fun learning how to use a new piece of equipment with their friends!
We look forward to welcoming everyone back and hope you are as excited as we are.